Food
Choices of food and drinks abound in The Markt. Of course as a major tourist destination the majority of restaurants are catering to Tourists therefore we also suggest some very nearby alternatives.
Restaurants
Cambrinus, on your left as you go down Philipstockstraat from The Markt, a brick facsade and inviting lamps in the window at all times of the day of this historical building named after the King of Bear take you into a very traditional Bruge restaurant. cambrinus.eu
Bars
Curiosa, just off The Markt on the right as you go down Vlamingstraat, down a flight of stairs between the Optiek and the Fintro. curiosa-brugge.be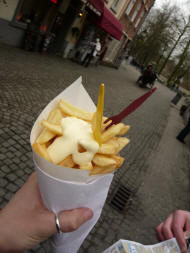 Cheap Eats
Frites stalls
Hamburgers at Q, the "Quick" restaurant in The Markt itself. The cheapest place to have an outside table on the square.
The Markt Bruges - A definitive guide - Belfry - Getting there - Christmas