The Belfry of Bruges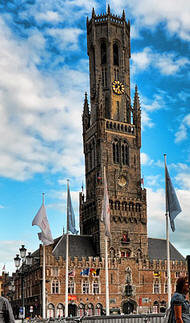 The Belfry of Bruges is arguably the most famous part of The Markt square. Taller and more impressive than any of the other building it was founded in 1240 as a wooden tower on a stone building. While the rest of the square was mostly commercial with wool and fabric traders and warehouses the building housing the Belfry was the home of city officials who performed the important financial functions for the city.
Some 40 years later the administrative functions were moved to the castle after a fire in the wooden structure of the Belfry resulted in a loss of many important documents.
Over several hundred years the building suffered multiple fires, some from lightening striking the high tower, and it wasn't until 1822 that the current stone tower was completed and finally fire risk was reduced.
Today the tower holds the 47 bells designed in 1741 by George Duméry and regularly chimes the hours and important events.
The tower is open to tourists and provides an unequaled view over the whole of Bruges. It will be 366 large stone steps to the top. A great view is available from the top. Note that wire mesh protects the windows for safety which limits visibility.
Managed by the Bruggemuseum-Belfort the Blefry is open every day from 9:30 in the morning till 17:00 in the afternoon. Entry fee is 8 euro for adults and free for children number 6. Consider buying the 3 day pass to all museum buildings for only 15 Euros.
The Markt Bruges - A definitive guide - Belfry - Getting there - Christmas